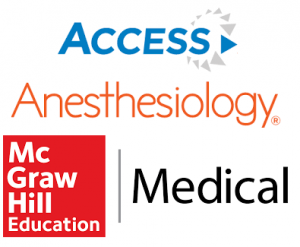 AccessAnesthesiology from McGraw-Hill Medical offers a new approach to anesthesiology reference, research, and curricular instruction – all in one place. Updated regularly, this comprehensive online anesthesiology resource covers the entire spectrum of anesthesiology from the basics to specialty-specific content -– optimized for viewing on any device.
Authoritative, trusted, and comprehensive, AccessAnesthesiology is the field's leading website guided by an esteemed Advisory Board that includes three distinguished physician-educators, John F. Butterworth, IV, David C. Mackey, and John D. Wasnick.
AccessAnesthesiology can help students excel in their clerkship; assist residents in strengthening their skills with instant access to procedural videos, self-assessment, and leading anesthesiology textbooks that will establish a solid base for learning; allow practicing anesthesiologists to reinforce their medical knowledge for recertification; and provide CRNAs with an important foundation in their career.
Why is AccessAnesthesiology unique?
AccessAnesthesiology provides unique benefits that deliver indispensable support in resident education and certification/recertification in pain management, critical care, and perioperative medicine – through these exclusive interactive features:
Leading anesthesiology textbooks – The definitive collection of anesthesiology texts including the comprehensive reference, Anesthesiology — along with the world's best-selling anesthesiology book, Morgan & Mikhail's Clinical Anesthesiology.
Multimedia – A robust library of animations, lectures, and procedural videos designed to guide students, residents, faculty, and practicing anesthesiologists through basic and advanced skills including exclusive ultrasound, regional anesthesia, and advanced monitoring videos.
Interactive Self-Assessment – More than 3,800 Q&A designed to help residents prepare for their in-service exams and boards, and clinicians for recertification or specialty exams such as TEE and Pain Medicine. Take a practice test: accessanesthesiology.mhmedical.com/qa
Practice Guidelines – Concise tables and algorithms summarize the latest protocols to distill essential information for easy access – anytime, anywhere.
Integrated Drug Database – Look up dosing, indications, and adverse reactions quickly for generic and brand-name drugs, and print out patient handouts available in both English and Spanish.
Cases – More than 100 patient cases from Case Files and Morgan & Mikhail's Clinical Anesthesiology help students better understand and explore possible patient scenarios in the clinical setting.