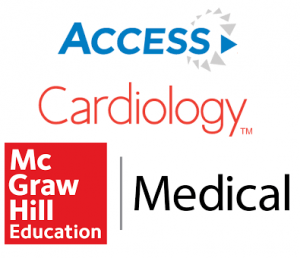 AccessCardiology from McGraw-Hill Medical addresses the most current standards of care, research, and clinical trials through references from leading experts in the field of cardiology in areas such as interventional cardiology and electrophysiology.
Optimized for viewing on any mobile device and guided by an Advisory Board that includes five of the top academic experts in the field of cardiology, AccessCardiology is the field's most trusted cardiology resource, frequently updated and always innovative.
AccessCardiology also bridges the gap between basic science and clinical applications for residents and fellows, and features quick reference capabilities for practicing cardiologists, NPs, and PAs.
Why is AccessCardiology unique?
AccessCardiology provides benefits that deliver innovative solutions for the education and practice of cardiology.
Leading cardiology textbooks, topic updates, and chapters published online ahead of print mean that the content is always current.
Heart Sounds Collection — An exclusive, online-only heart sounds collection will help fellows and residents master their cardiac auscultation skills and enhance clinical diagnosis.
Quick Reference — Link to current information about tests, conditions, and medication in Cardiology Clinical Questions, which features concise bullet points for review or quick reference in a clinical setting, and is especially helpful for practicing cardiologists, NPs, and PAs who work in a team setting.
Extensive Multimedia Library — View a unique collection of procedure videos and echocardiograms that dynamically illustrate and explore cardiac conditions to prime fellows for hands on work in their field.
Downloadable High-Quality Images — Speed diagnosis and treatment with high-quality images that help illustrate procedures and conditions, in ways that text cannot convey.
2 Minute Medicine —  Concise and curated reviews and summaries of new medical studies. Studies are rated for the appraisal of evidence-based medicine.
CME — Receive CME credit and prepare for in-services, certification, and recertification with content that covers trending cardiology topics, such as electrophysiology.
Integrated Drug Database — Look up dosing, indications, and adverse reactions through an updated drug database including thousands of generic and brand-name drugs.
Patient Education — Comprehensive, reliable healthcare information for adults, pediatrics, medicines, and acute settings available in multiple languages.