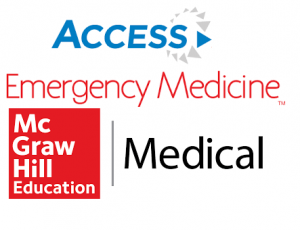 AccessEmergency Medicine from McGraw-Hill Medical helps meet the immediate needs of the emergency department (ED) – all in one place. Updated regularly, this comprehensive online emergency medicine resource provides quick diagnosis and treatment answers for a broad spectrum of complaints encountered in the ED, ranging from neurologic and pediatric emergencies, to poisoning and trauma – specifically designed for optimized viewing on any device.
Authoritative, trusted, and content rich, AccessEmergency Medicine is the field's leading emergency medicine resource guided by a preeminent Advisory Board that includes five top academic experts led by Judith E, Tintinalli, MD, MS, FACEP, and features content co-published with the American College of Emergency Physicians (ACEP).
AccessEmergency Medicine provides medical students with a variety of resources needed to excel on their clerkship; assists residents in gaining instant access to videos, self-assessment, and leading emergency textbooks that will establish an important foundation for learning; and allows practicing physicians to brush up on their medical knowledge when studying for their recertification exam.
Why is AccessEmergency Medicine unique?
AccessEmergency Medicine provides unique benefits that deliver indispensable support in resident education and clinical practice – through these exclusive interactive features:
Leading emergency medicine textbooks – A robust collection of the most current emergency medicine texts and pediatric references, including the world's leading emergency medicine text, Tintinalli's Emergency Medicine – with textbook and topic updates.
Procedural videos – The most complete collection of detailed emergency medicine and pediatric procedural videos online – designed to help users through basic and advanced skills procedures, brief interventions, and applications of decision rules.
Interactive Self-Assessment – More than 3,000 review Q&A designed to help residents, clerks, recertifying physicians and pediatricians prepare for exams.
Integrated Drug Database – Look up dosing, indications, and adverse reactions quickly for generic and brand-name drugs, and print out patient handouts available in both English and Spanish.
Patient Education – Customizable handouts providing comprehensive, reliable healthcare information are available for adults, pediatrics, medicines, and acute settings in multiple languages.
Clerkship Corner – An invaluable resource that brings together all clerkship specific resources, including text references, case files, and videos on essential concepts and procedures clerks may observe or assist in during their rotation.