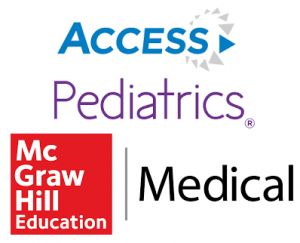 What is AccessPediatrics?
AccessPediatrics from McGraw-Hill Medical covers the entire span of pediatric practice, from neonatology through adolescent medicine. Updated regularly and optimized for viewing on any device, this comprehensive online pediatric resource provides instant access to information essential for completing evaluation, diagnosis, and case management decisions, as well as for pursuing research or self-assessment and board review — all in one place.
Authoritative, trusted, and content-rich, AccessPediatrics is an innovative pediatric website guided by a preeminent Advisory Board that includes the four of the field's top academic experts and is led by Camille Sabella, MD, of the Cleveland Clinic Lerner College of Medicine of Case Western Reserve University School of Medicine and the Center of Pediatric Infectious Diseases at the Pediatrics Institute, Cleveland Clinic Children's Hospital.
AccessPediatrics can help medical students to excel in their clerkship through use of use videos, cases, and Q&A; assist residents with leading pediatric textbooks and vignette style exam prep that will establish an important foundation for future practice, and allow practicing pediatricians to quickly search for relevant clinical information.
Why is AccessPediatrics unique?
AccessPediatrics provides unique benefits that deliver indispensable support in resident education and clinical practice – through these exclusive interactive features:
Leading pediatric textbooks – References to help clerks and residents successfully make it through their rotation or residency. AccessPediatrics is the only place to view the fully searchable and complete content of the landmark pediatric text for more than a century, Rudolph's Pediatrics, and also offers CURRENT Diagnostics & Treatment: Pediatrics and Lange Neonatology.
Find the full list of leading textbooks at: accesspediatrics.mhmedical.com/textbooks
Quick Reference – Concise outlines of conditions and disorders most often encountered in medical practice from the Texas Children's Hospital Handbook – whether used as a high-yield review for studying or for quick reference in a clinical setting. Images and algorithms are also highlighted in the search to help confirm diagnosis and clinical decision making.
Extensive multimedia library – A unique collection of procedure and concept videos that dynamically illustrate and explore anatomy and physiology to prime residents for hands on work in their field.
For a complete listing of videos and animations go to: accesspediatrics.mhmedical.com/multimedia
Pediatric Board Review – Designed to prepare residents with extensive Q&A that mirrors the case vignette style seen on today's pediatric board exams.
2 Minute Medicine – Concise and curated reviews and summaries of new medical studies. Studies are rated for the appraisal of evidence-based medicine.
Integrated Drug Database – Look up pediatric dosing, indications, and adverse reactions quickly for generic and brand-name drugs with printable patient handouts presented in English and Spanish.
Clerkship Corner – Acquire the complete scope of information medical students need for a successful rotation in pediatric medicine, including targeted texts and case studies.